Northwest Motorsports Road Racing Club

NWMS roots go back to 1954 and the original Sports Car Club of Spokane. SCCS members created Northwest Motorsports to promote and host regional sports car races in Spokane. Northwest Motorsports became a member of the International Conference of Sports Car Clubs and hosted its first ICSCC championship race at the Deer Park, WA airport in September, 1959.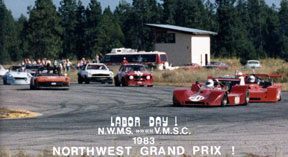 Northwest Motorsports now hosts ICSCC Championship road racing weekends at Spokane County Raceway. The competition is intense as racers from throughout the Northwest compete in over 40 classes, challenging the fastest road racing course in the Northwest. The ICSCC is an association of independent clubs in the U.S. and Canada. ICSCC is the competition, regulatory, administrative and sanctioning body for its member clubs. Each club hosts races at their home track. Racers compete in as many regional races as possible to accumulate points for the ICSCC Season Championship in their class.
Join Northwest Motorsports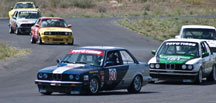 Northwest Motorsports members meet in Spokane on the second Wednesday of the month. The meetings are a great opportunity to meet NWMS members, participate in discussions about the events, plans for future road racing in Spokane and bench racing about great race events in the past. Contact us to confirm the time and place of the next meeting. Join/renew online with our new membership page. Contact the membership chairman if you have questions.
Click here for Race Registration information
---
Contact us for more info